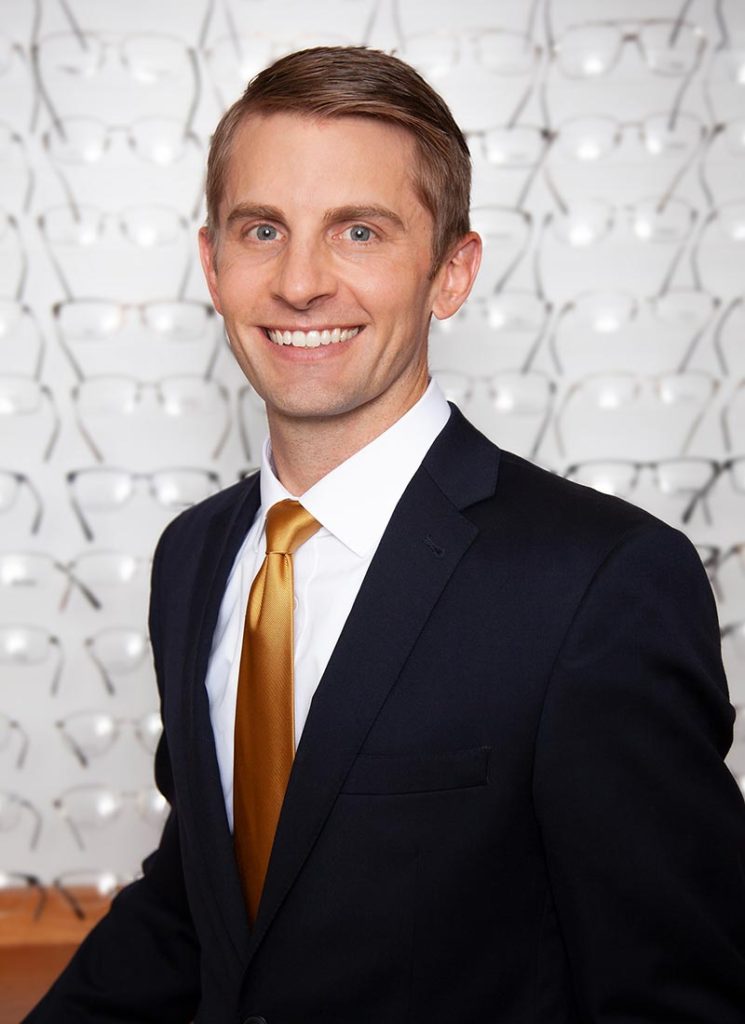 In focus with Dr. Bret Bodenhamer.
What should patients expect at a regular eye exam?
We take a comprehensive approach with our eye exams to evaluate how your eyes are functioning in your everyday life. A typical exam begins with pre-testing that involves questions about your current vision as well as your general health. We then perform an evaluation that focuses on your reason for the exam.
This may include determining a prescription for glasses and/or contact lenses, an examination to evaluate the anterior (front) structures of your eyes, as well as a dilated retina exam to evaluate the posterior (back) structures of your eyes.
Most of our comprehensive exams last between 30 and 60 minutes. We strive to make the experience as seamless and enjoyable as possible.
There are some additional tests that are performed at an extra charge. Are they necessary for each visit?
Fundus (retina) photos
OCT (optical coherence tomography)
Visual field analyzer
These additional eye exam instruments are used to detect and monitor treatment for particular eye conditions such as glaucoma, macular degeneration, diabetic eye disease, and neurological conditions such as MS. Even if you are not at risk for any of these eye conditions, these preventative tests are important, as they take a proactive approach to your eye health. Our optometrists are always happy to discuss each patient's needs on a one-on-one basis to provide you with the most relevant eye care possible.
Any new products?
Yes! Our frame inventory is updated weekly with new styles, colors, and sizes. We also now offer a new monthly disposable contact lens that corrects astigmatism and functions as a multifocal.
Additionally, we have added Blephadex eye wipes to our inventory of ocular hygiene and dry eye products. Blephadex wipes have a blend of tea tree oil and coconut oil and are used once a day.
What is your current favorite eyewear trend?
Round eye frames! They function great visually and do well with hard to fit faces, like myself. They are trending in all ages right now.
What are you excited for within your business in the upcoming year?
Growth! Growth in knowledge and in the use of technology in eye care. We have added new staff to our team to accommodate our patient demands.
With the completion of our new website, we hope to be more available online for our current and future patients. As always, we hope to grow in the number of patients we can reach with our services.
What is one of the biggest eye "misconceptions" patients have?
After having laser vision correction surgery, you no longer need to have an eye exam. LASIK surgery can give many people clear and comfortable vision for many years, but it does not prevent or treat eye diseases. Many eye diseases begin with little or no symptoms and can only be detected with a comprehensive exam.